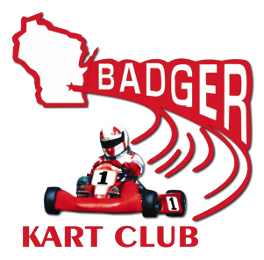 BLACKHAWK FARMS INFORMATION PAGE
Badger Kart Club will have a points race Sunday, June 2nd, at Blackhawk Farms along with the Championship Enduro Series (CES). The following links have information about the day's events:
Blackhawk Farms Daily Schedule
Directions to Blackhawk Farms
CES Website with Schedule
CES Class Structure
Fillable Pre-Tech Sheet
Brake Tether Instructions Uncle Bob's Guide to Road Racing
---
BKC to CES Class Conversion Table
The following table is the conversion for BKC classes to the CES classes you'll see on their daily schedule. Sorry, no Kid Karts at Blackhawk Farms. The classes are listed in the order they appear in the BKC rulebook. Race numbers are provided from the CES daily schedule as of 05/14/2013 and are tentative and subject to change. The CES website will have the most current information, though we will attempt to post the latest updates as soon as possible.
Important note regarding rain points: Per rule 5.1.3.1 in the BKC rulebook, all rain points for events not held at Briggs & Stratton Raceway Park must be purchased in person. Do not call the track, you must register with Bingo Emmons or Chris Burke. If CES continues to hold a race in the rain, all Badger Kart Club entrants will be awarded rain points. You may race with CES if you like, but there will be no penalty for not doing so.
Badger Class
CES Class
Race Number
(Tentative)
6.1 Briggs Animal Sportsman
Sprint Jr. Novice - Class 2
Race #6
6.2 Yamaha Sportsman YBX
Sprint Novice - Class 1
Race #6
6.3 Yamaha Sportsman
Sprint Jr. Novice - Class 2
Race #6
6.4 Komet Sportsman
Sprint Jr. Novice - Class 2
Race #6
6.5 Yamaha Junior
Jr. Sprint 2-Cycle - Class 3
Race #6
6.6 Briggs Animal Junior
Briggs Animal Junior - Class 4
Race #1
6.7 Komet Junior
Jr. Sprint 2-Cycle - Class 3
Race #6
6.8 Yamaha Supercan
Piston Port Can Sprint - Class 12
Race #6
6.9 Senior Super Heavy
Senior Super Heavy - Class 9
Race #6
6.10 Komet Senior
KPV Komet Senior - Class 11
Race #4
6.11 Briggs Senior Animal
Sprint Briggs Animal - Class 8
Race #1
6.12 TaG Senior
TaG Senior - Class 20
Race #2
TaG Masters
TaG Masters - Class 22
Race #2
Sorry, no Kid Karts
---
Fees for Pit Passes and Race Entries
Pit passes are $20 per day or $30 for the weekend. Everyone will need a pit pass to enter the grounds.
Pit passes are sold at the gate. See Bingo Emmons or Chris Burke at the track to register for BKC classes and practice. BKC registration will be in the tech building (same building as last year).
The BKC driver entry fee is $25 and includes Sunday practice and is in addition to the ground entry/pit pass fee.
Practice fees for BKC members on Saturday are $25, in addition to the gate entry fee. You must be entered in a BKC class for this rate. Saturday practice by class runs from 8:30am until noon. There is a drivers meeting Saturday at 7:45am.
Credit cards are not accepted for pit passes or race entry, please bring cash or check.
Gates open at 7am on both Saturday and Sunday. Friday evening the gates will open at 6pm.
Pre-tech will be available Friday from 6pm to 10pm
BKC class registration Saturday 1-5 PM, Sunday 7:30am.
There will be a driver's meeting at 7:45am on Sunday for the BKC events. Practice to start at 8am and racing at 10:45am.
Camping is allowed on the grounds for free.
Don't forget the 4 Cycle Central party Saturday night!
---
Race Procedures
Race lineups will be determined by registration order. First to register gets the first position, etc.
Starts will be LeMans-style standing starts.
Races will be of the timed, enduro type. The checkered flag is displayed after time has elapsed, not after a specified number of laps.
Brake tethers are required for all classes as a safety device in case your primary brake rod or cable fails. You can use a throttle cable attached to your brake pedal and master cylinder. Click here to download instructions for attaching a tether to your kart.
Important safety notice: unlike Briggs & Stratton Raceway Park, Blackhawk Farms has corners where you cannot see the exit from corner entry. Because of this and the higher speeds associated with enduro racing, it is important to look at the flag stands for yellow flags. If a corner worker has displayed a yellow flag, be prepared for a kart to be directly in the racing line.
---
Spec Fuel
2-cycle racers purchase premium unleaded fuel at:
Flying J Plaza
16049 Willowbrook Road
South Beloit, Illinois...........815-389-4760
Open 24 hours a day and easy to find and you can see sign from I90 & Highway 75.